Salonpas® Liniment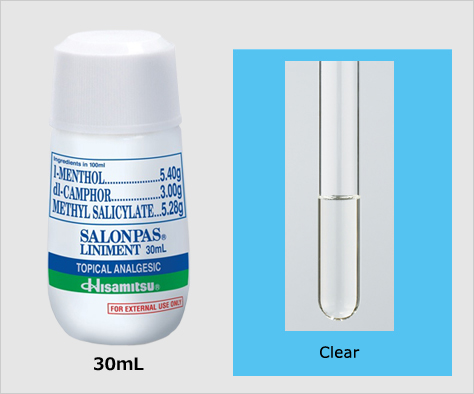 Active Ingredients

ℓ-Menthol

5.40g

dℓ

-Camphor

3.00g

Methyl Salicylate

5.28g

Uses

For relief of aches, pains and inflammations associated with:

■ muscular pains
■ joint pains
■ rheumatism
■ stiff shoulder
■ neck pains
■ lower back pains
■ bruises
■ sprains
■ neuralgia

Directions

Take off the cap and apply to the affected parts by rolling on gently.
Close the cap tightly after using.

■ Chilrdren under 2 years of age:

Consult a doctor.

Warnings

For external use only.

Do not use

■ on wounds or damaged skin.
■ if you are allergic to aspirin or salicylates.


Ask a doctor before use if you are


allergic to external application products.


Ask a doctor or pharmacist before use if you are


taking other medicines.


When using this product

■ do not use otherwise than as directed.

■ avoid contact with the eyes, mucous membranes or rashes.


Keep out of reach of children.


Package not child resistant.